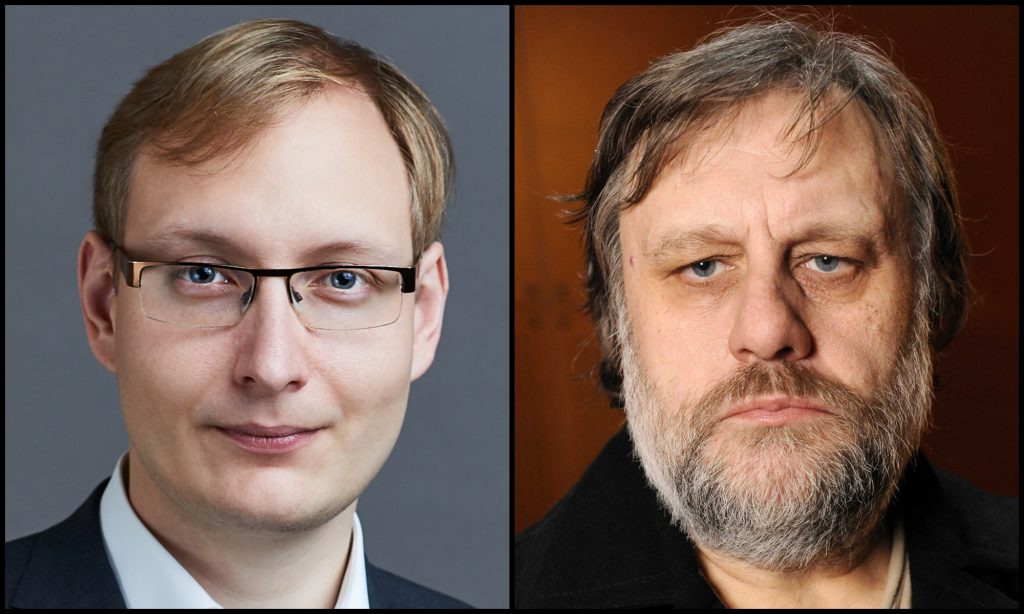 Slavoj Žižek: Coronavirus, Black Lives Matter, and revolution
I interviewed cultural critic and Hegelian philosopher Slavoj Žižek on Thursday, June 11, hosted by Big Think and moderated by Peter Hopkins.
Žižek is one of the most prolific and well-known philosophers and cultural theorists in the world today. His inventive, provocative body of work mixes Hegelian metaphysics, Lacanian psychoanalysis, and Marxist dialectic in order to challenge conventional wisdom and accepted verities on both the left and the right. Žižek's ability to witness and analyze the influences of corporations, nationalism, and the ideological underpinnings of any geopolitical or social occurrence is more relevant than ever while we take a thorough survey of the current pandemic. His challenges of leftist ethical codes and his audacious use of humor—while seriously questioning the presupposed truths and what is deemed good—are woven throughout his numerous publications and his in-person presence. Žižek's most recent book is Pandemic!: COVID-19 Shakes the World.
We had a fascinating discussion about states of emergency, why he ran for the Slovenian collective presidency, and more. The following transcript has been lightly edited for clarity.
Read the discussion below, and watch it here!
Peter Hopkins 
Welcome to Big Think LIVE. I'm Peter Hopkins, president and co-founder of Big Think. Today's topic is pandemic, protests, and panic. We have the honor of hosting Slavoj Žižek. Slavoj is one of the most prolific and well known philosophers and cultural theorists in the world. He has been called the Elvis of cultural theory and the most dangerous thinker in the West. His inventive, provocative body of work mixes Hegelian metaphysics, Lacanian psychoanalysis and Marxist dialectic, in order to challenge conventional wisdom and accepted verities on both the left and the right. His kaleidoscope vision has now turned to the emerging new normal in his latest book, Pandemic! COVID-19 Shakes the World. Last but not least, he is also one of Big Think's top 10 most popular experts ever. 
In addition, we are also fortunate enough to have the ideal guest moderator for today's talk: Samo Burja. Samo is the founder of Bismarck Analysis, a consulting firm that investigates the institutional landscape of society, mostly in political risk. He is also a research fellow at the Long Now Foundation, where he studies how institutions can endure for centuries and millennia. His research on civilization centers around the question of why there has yet to be an enduring, eternal society. Let me extend a warm welcome to Slavoj and Samo. Gentlemen, thank you so much for joining us.
Samo Burja 
Thank you.
Peter Hopkins 
We'll be turning to audience questions for the last 15 to 20 minutes of the session. So without further ado, I will hand the reins over to Samo, who will lead the discussion from here.
Samo Burja 
Thank you, Peter. So Slavoj, in your latest book Pandemic!, you note that the pandemic has required extraordinary measures to stabilize the economy. And you described these measures as "war communism", drawing parallels to the economic planning that happened during the Russian Civil War, driven as much by necessity by ideology. Do you think these pandemic measures will change the fundamental nature of capitalism? Or will it actually return to a new state of normalcy or crisis?
Slavoj Žižek 
What you said now, Samo, this is what in TV shows they call the $1 million question, you know. So to avoid all misunderstanding: from the way I described this communism as war communism, it's already clear that I don't have in mind what Marx talked about as communism. Marx's communism is a society of freedom, affluence, and so on. I refer here to one of Marx's definitions of communism—which, incidentally, is paraphrased from a passage of the New Testament that says "each according to his needs, from each according to his abilities". Now, this doesn't mean I want a Lamborghini car and I get it, and so on. It means that—everybody agrees with it, that's why Trump sent checks to 10s of millions—in such a new state of emergency, the authority is no longer profit, market mechanisms, and so on. At least for some time, the priority is to control the health situation, and to guarantee that people don't starve and so on—a minimum of existence. These things should be absolutely prioritized. And I also make it clear that this is not just that I sit at home and get what I need. I think the second wave may be even worse. I'm not afraid to say this, although people will proclaim me a totalitarian or whatever. Many people will have to be—temporarily, not in a Stalinist way—mobilized. For example, I recently read about the troubles in agricultural harvesting. Now in Tennessee, they tested one farm with 200 workers. All of them were positive! It's similar in France. Mines and slaughterhouses…
Samo Burja 
So the very mode of production actually has to change then. The factory farms and so on, perhaps they just are not viable.
Slavoj Žižek
Yeah. But at the same time, I got my lesson [on centralization]. I was nonetheless kind of a dissident in the last decades of ex-Yugoslavia. I was jobless for five years, unemployed, and so on. So I'm well aware that it's simply that the state centralizes it. You know, it's not simply [that it's more] efficient. Not only is this the ideal space for corruption and so on, but the paradox of these centralized systems is that beneath the surface, they are much more chaotic and disorganized.
Samo Burja 
They invest all their energy in the appearance of order and the appearance of functionality, which leaves almost no energy for the actual substance and reality of it.
Slavoj Žižek
Right! Maybe you'll know the case—I hope now it's better—when China began to open about a month and a half ago, you know what happened in Wuhan? The order came: restart production. But they, in factories, didn't have enough material to do it. Supply didn't work. So it's ironic, in the best old communist way, they noted through some friends that authorities measure production by how much electricity they spend.
Samo Burja 
Incoming power is consumed, so they let the machines run through the night.
Slavoj Žižek
Yes, that's the problem. So it's not true that in liberal democracies, you have freedom but chaos, while under totalitarianism, you have order and so on. I read a book on the economic history of the Soviet Union that talked about how in the Brezhnev era, beneath the surface of the economic plan, it was a big chaos. If you're a factory, you have to use bribes to get the material, you falsified statistics all the time. So I'm not simply saying let's return to that type of communism, I'm not crazy. It's inefficient. All I'm saying is that in some sense, at certain levels, decisions will have to be taken. How to reorient production and so on. And things will get to be prioritized, but this cannot be done simply through market mechanisms. Now, the second point: people thought, at least at the beginning, that yeah, okay, [we will do quarantine] for half a year and then things are back to normal. Well, I'm an atheist, but I pray it will be so. But I have my doubts. Did you notice that when cases were up, the formula was that we reached a plateau, and then cases will go down.But they go down very slowly. Then what worries me further is how—and that's what I call a perfect storm—how these health crises are combined with other crises. For example, why don't people worry more about the food production? You know, that low-cost catastrophe from Eastern Africa to Pakistan and India?
Samo Burja 
It could easily trigger a massive refugee wave.
Slavoj Žižek
Yes, then swine flu, and so on. So we have this problem, and so on…
Samo Burja 
Your writing does center on what constitutes political events, right? The political event is something that can't really be explained by the existing ideology. So it breaks the old narrative and opens space for ideological competition. But from what you've just described, if events are moving so fast that it's impossible to ideologically process them, then do we still have political events? I mean, in a matter of days, we flipped from the pandemic coverage to riot coverage and protest coverage. And then few people outside of Australia still remember the wildfires from earlier this year. There was supposed to be this big environmental disaster. I mean, I don't even remember who Greta is right? She's been disappeared somehow. And the events just haven't been processed.
Slavoj Žižek
And not only this, but did you notice how precisely those people who proposed things that could have been useful now, like Bernie Sanders, and so on, also practically disappeared. Nobody, almost nobody, talks about Bernie now.
Samo Burja 
The consensus is overwhelming in this sense because a decision has been reached. And so far as most people are concerned, we really should be focusing all our energy into the pre-existing narrow political process of the two big political parties here in the US. Is it useful to build political institutions outside the main two parties? There's been just none of that, at least not on a deep level. And so I think we've actually seen an overhang of political change for a very, very long time here.
Slavoj Žižek
This problem is not only a coronavirus pandemic problem. It already began earlier. Before, the crucial conflict was within the Democratic Party between—and I don't mean this in an aggressive way—let's call them Establishment and Bernie Sanders. There was a serious split there. Bernie was almost a Democratic Trump, because Trump also broke with at least part of the establishment of the Republican Party.
Samo Burja 
They were both violating the party principles.
Slavoj Žižek
I am not just a stupid leftist who wants a revolution and so on. We are now witnessing protests exploding—and it's very interesting, the anti-racist protests—exploding not only in the United States, but spreading all around the world. [They're in] England, France, even Australia and so on. What worries me, because this is how political instability enters, is that there is obviously a certain rage, a protest energy, which cannot be corruptly captured by traditional political coordinates. So I think that it's on behalf of the stability of our system to find a way for this energy to articulate itself. 
Samo Burja 
And they actually continue for a very long time. I note that the Yellow Jacket protests in France, they never stopped. They've been going for two years, we just have ceased essentially to report on them. And the same happens with the Hong Kong protests which continue to drag on. We could imagine the current ones dragging on for two or three years.
Slavoj Žižek
But you know, what worries me is that it seems that all our life a different domain is turning in this direction. Something explosive happens; then, since we watched too many bad Hollywood movies, we think of a catastrophe like a big explosion. And then gradually, the trauma is over, life returns. But [in reality], conflicts just drag on. Remember the Ukraine war—Ukraine versus Russia?
Samo Burja 
Yes, it's been frozen in that state for 10 years.
Slavoj Žižek
It goes on. You know, you remember Libyan war, or even better the Syrian war? Things just go on and go on. And what I am afraid of, is that it's similar with the COVID pandemic. It's not a clear climax…it just goes on. We are entering a new world. That's my answer to your question. Any minimally intelligent system knows when you make a compromise, even elements of universal basic income and so on. But then when things return to normal, you try to restart the old system. What worries me is that too many things are happening. Again, the possible food crisis, all these protests, even international conflicts, and also other ecological catastrophes. For example, you remember close to Norilsk—which incidentally was one of the biggest gulag sites—21,000 tons of oil or whatever spilled into the [Ambarnaya] river. But you know what was the reason? I read about it. Global warming, because these holding buildings were built on foundations which couldn't endure through the time of permafrost.
 Samo Burja 
It was built on permafrost right? And then the permafrost started melting and then the building collapsed.
Slavoj Žižek
That's the reason. So what worries me is this: each of these conflicts, taken by itself, can be managed. I worry about the combination. And just to conclude back to the protests: I support them of course, but I am not a naive guy who says, "Oh, even if they are looting my store, welcome. You are on the progressive side of history." [Take] someone who is very much to the left, but not an idiot, Ras Baraka—the son of the poet [Amiri Baraka], and the mayor of Newark. He said to black people, we cannot win with guns, we will always lose at that level. We have to move from guns to books, and formulate our protests in an articulate way as a political program, and so on and so on. I don't agree with those who think, let's go and terrorize the system through violent measures, and so on and so on. No, this is a total deadlock. It should be in the interest of all of us to help them—but not in a patronizing way—the protesting blacks, to articulate their demand in a more precise way, to look at the roots of racism and so on and so on. Because, you know, violent outbursts are always a symptom—a symptom in the Freudian sense, where 'symptom' is an acting out. You cannot put it in words, so you explode. It's a nice paradox because usually, anti-intellectuals tell us thinkers that "you just talk, we need to act." No! Quite often we act, because we are not able to pronounce the correct way to talk. That's what is happening.
Samo Burja 
You paradoxically described inaction and thought as perhaps the most subversive or transformative activity. But then what kind of thinking transforms society? What is the kind of thinking you would like people to do?
Slavoj Žižek
My favorite paraphrase of Marx—I repeated this to the horror of like Marxist friends—is that in contrast to Marx, we should say, maybe in the 20th century we wanted to change the world too much, and we didn't interpret it properly. So our thesis should be today, instead of just wanting to change the world, let's interpret [it], you know.
Samo Burja 
So interpretations of the world…
Slavoj Žižek
We are in some kind of, what my friend the Marxist [Frederic] Jameson calls 'lack of cognitive mapping'. Listen, even if you talk with theorists—Marxist or right-wingers—what is China today? Some people say it's the old communist dictatorship, that they just allow a little bit of capitalism. Others say it's neo-feudalism. Third, people say it's already capitalism, and the Party is just serving capital. We simply—and I don't mean a perfect dogma, but just a basic orientation—we simply don't have a basic orientation of what effectively is going on today. And the danger in such a situation is that, although I'm not a total pessimist here, then populism explodes. You know, would you agree, Samo, or not—you as a systems theorist—that one of the nice surprises, it's cynical to use this word, but nonetheless, of the present situation is that populism obviously didn't work. Look at the top three countries—I mean, yes, the United States, Russia, Brazil. They all have a leader who tries to act in a populist, even a little bit authoritarian way. And they are the three great failures.
Samo Burja 
Perhaps the important lesson here is that maybe populists are extremely good at understanding people. Perhaps they excel at human psychology, maybe they even excel with adversarial games. But then something that's not really an adversary—not an adversary in a classical sense—something that's a natural phenomena is a complete failure, because there's no way to really mobilize in that direction.
Slavoj Žižek
Yeah, populism is good at mystifying and mobilizing people for struggles, antagonisms. But here, we have in the most naive scientific way, the real problem: a stupid self-replicating virus. And here it doesn't work. So, you know why this is important, on the other hand? Because it's fashionable for Marxists to be against state power, you know, alienated and so on. I think what we need like daily bread today is, not a totalitarian state, but a state because as far as possible, functionally efficient and that somehow you or me as an ordinary citizen can trust in.
Samo Burja 
Yes, to be as anarchistic as possible. So you're advocating a high degree of mutually justified trust between both the government and the citizens. I could argue that perhaps the current states—through the very act of mass surveillance, and this kind of political control, and this very subtle manipulation of social media algorithms—betray to the citizens the message, "Don't trust me, I don't trust you." I think it's a very, very mutual relationship of distrust between the government and citizenry. And I think that the question is, where does the distrust begin? Perhaps we were bad citizens. Maybe that's why the government has distrusted us. I think it's very easy to blame the power structure itself, but we are all always complicit in it.
Slavoj Žižek
No, I agree with it! And especially now that we have such an outcry, with these mechanisms that they can track where you move and so on. You know, I think what's the big fuss? If it really helps me to avoid contact, go on! I worry much more about the fact that already before the epidemics, we know that all these countries—China, the United States, I know the case of Israel through friends—were already listening, recording all phone conversations, all internet messages, and so on and so on. At least this time, they are controlling us, in some sense for our own good.
Samo Burja 
It's an interesting paradox. We have accepted quietly that all our data can be used for national security purposes. But we object to, or don't allow for the use of that very same data for health benefits. That strikes us as dystopian.
Slavoj Žižek
Not just where you move! You know, it's much less than following my thoughts on my PC and so on and so on.
Samo Burja 
Well, it's the metadata of where you're going with your phone. They did a study a few years back in Japan that 95% of the time, people are never more than two meters away from their phone. So the phone would track quite well where you physically go and where you might spread the virus.
Slavoj Žižek
Again, I'm not afraid of this. I think, worry about real problems, you know. On the other hand, if I may go into slightly more obscene waters, which I like, I think that one possible benefit of—it's horrible to talk like this, I'm horrified and live in anxiety—of the epidemic will be passion and sexuality. I don't think the effect will be what people complain about, that sex will become digital, no personal contact. First, sex already became digital. I know, I follow the situation here in Slovenia weekly. Your beloved President Trump would put it "A small shithole of a country". but… 
Samo Burja 
Well, I'm from the same country so maybe I'd object! [laughs]
Slavoj Žižek
I know, I know. I spoke with the head of the class of my younger son, who told me the keynote is that over the last 10 years, sex life begins much later. We were much further 10 years ago—usually around 15 years old, pupils begin to have sex. Now it's 17, 18. And as one friend of my son told me, why bother with a real partner? The most he's ready to do is one night stand. Otherwise you masturbate in front of a screen, in two minutes or whatever you are over. I think that sex was already to a large degree digitalized, and that bodily contact will become much more something that concerns passion. If you mean real love, [or] passion, it has to be touch. That's a deep insight. If you find, even with some movie makers… I like to quote Andrei Tarkovsky, who said, the soul without the body, it's even more sinful than a body without a dress. You know, our only medium to the other person is through the body.
Samo Burja 
So it is the only way we can cross that chasm.
Slavoj Žižek
I'm not a pessimist here! We will maybe rediscover all the intensity of the physical copy.
Samo Burja 
So instead of a progress towards alienation—to perhaps this kind of Japanese style, you know, the isolated hikikomori thing where no one ever leaves their living room and never connects to others—perhaps the pandemic results in a reattachment of meaning to physical touch and the erotic. To go from the vulgar to the obscene, can I ask you about politics just a little bit more? In 1990, you ran for the president of the, I would say lovely country we're both from, and in this first free election, you got 36% of the votes. What lesson did you learn from this experiment?
Slavoj Žižek
One minute, I didn't run for the President…
Samo Burja 
Sorry, for the collective presidency.
Slavoj Žižek
It was a collective body. But, you know, it was part of Titoist mythology. They said after Tito died, nobody could replace him. So we needed a collective body.
Samo Burja 
And this was continued in the first stage of Slovenian independence.
Slavoj Žižek
The real reason that I ran for that collective body—this collective body had four members, and a President, and as always I ended fifth—the reason was to help my party. Even many leftists are mad at me now, because it was a liberal democratic, very moderate left-wing party. But I'm not a friend of it, you know why? At that point, we old leftists felt that the danger of this first wave of democracy is to allow one party, or some kind of nationalist platform, to basically monopolize and hegemonize the entire political field. It could be a right wing party, as in Croatia. It could be at least nominally a left wing party, like Milosevic in Serbia. 
Samo Burja 
We saw the transition from communism to very extreme nationalism, and you considered the Liberal Democratic Party as a break with this.
Slavoj Žižek
We set our first task. We said to ourselves, forget about radical leftist programs. Let's at least keep the space open for more pluralistic democracy, where there is a place for everybody, for an alternative culture and so on and so on. And we almost, but not quite, succeeded. For a long time Slovenia avoided this type of rule of one big nationalist party. Even now when Janez Janša, this young right wing nationalist, is in power, he cannot get above 30% of the votes. He was able to take over because of the conflict—they can also be very corrupt, and so on—in the so-called moderate left. So-called. I think they are a simple liberal center and so on.
Samo Burja 
So you ran to bolster this political process with name recognition, with intellectual authority. You know, Slovenian culture is very much Central European. They respect the professor, they respect the academic. 
Slavoj Žižek
Which is why I have very nostalgic memories of that time, the late 80s, because this was not only a specificity of Slovenia, but also some other communist countries. One of the points of origin of dissidents, intellectual dissidents, was philosophy and social theory, which is why my books were selling—ordinary people listened to us and read philosophy. It was a wonderful intellectual moment. At the same time, communists in power were intelligent enough to see the writing on the wall. So, you know, maybe it will be of some interest to some of our viewers, a comical detail that I love: after '85, it was very difficult to be prosecuted and arrested for being too critical. So some of my friends were violent in their critique of Yugoslav Communist Party—worse than Stalinism, and so on. Then they waited. When would they get the invitation to appear at the court? Because they want this as a badge of honor of democracy, no? Nothing. A friend of mine got an invitation for debate of the Central Committee. He went there, said the same things. And they told him, so nice that you came to talk to us, come again.
Samo Burja 
In a way, they were minting authority off of talking to dissidents and trying to also minimize the impact of dissidents, right? They became as you said, a badge of honor, almost martyr-like.
Slavoj Žižek
But somewhere from even, I would say, the early 80s—definitely after '83-'84—the Communist Party, at least in Slovenia, behaved as if they knew that the game was over. And their main concern was how to survive democracy. What to do? Tolerate differences, and especially play the nationalist game—we protect, in Belgrade, Slovene interests, and so on. You know, the good thing is that they didn't do what Milosevic did. They never succeeded in monopolizing, from a national standpoint, the entire scene, like "we speak for Slovenia."
Samo Burja 
Perhaps it's time now to move to the audience questions.
Slavoj Žižek
Okay, I believe in open free debate and he told me… of course, I love it. But as a communist, I know that open free debates should be especially well prepared in advance! Go on.
Peter Hopkins 
So let's jump into the audience questions. First question is, what long term consequences might society face because of the pandemic? And what near term consequences, and what in the mid-to-long term?
Slavoj Žižek
Again, I don't know enough. Because these things don't depend on our will, but may be [down to] scientific knowledge, and so on. Like, if there is a fast vaccine or whatever—it could be relatively fast, at the end of this year—it will change the situation. What I think—and again, as an atheist, I pray to God that I'm wrong—what I fear is that first, this pandemic will drag on. In parts of the world, it will get a little bit better, but then you never know what will happen. And especially, it will be combined with other things. So I do think that for foreseeable times—I'm counting years—some kind of state of emergency will go on. And the challenge is what to do. I see, now, three main options. The one is Trump and Bolsonaro—Bolsonaro, nonetheless, but maybe worse than Trump—which is brutally… 
The main thing is that the economy is moving and that our, what we consider normal daily way of life and socializing remains. And they don't say this publicly, but the implication is that, even if thousands are dying, let's do this. And let me tell you, as much as I despise these politicians, in a way I understand that line of argumentation. Are we aware what a horrible change of our daily rituals this is? You cannot embrace people, touch people, you cannot go on, you cannot communicate. I totally understand one anti-quarantine protester who said, "No, I don't want to wear a mask and no longer be human. I'm like a dog, I lose my dignity." So this is one option. The other option that I also don't like, let's call it the Eric Schmidt/Andrew Cuomo/Bill Gates option. A vision of the new digitized space where I will even do doctor's exams on the web, food will be brought to me—and to institutionalize, not necessarily in the totalitarian sense, our self isolation, so that we will live in some kind of bubbles. 
My skepticism towards this, it's a well known one. I'm not very original here. It's that many of us can live like this, but a great percentage—at least 40%—should nonetheless be out gathering garbage, delivering for hospitals, and so on and so on. So I don't think this works. 
What I see as a solution? I'm not afraid of self-isolation, and so on, but it doesn't resolve all the problems. I follow around the world how they deal with the pandemic. For example, where they were relatively successful lately, in Spain. You know what, we don't read enough [about] local communities. Something beautiful happened in Spain. I was told, in parts of Madrid and Barcelona, local communities constituted a group, said "okay, this couple of blocks is our terrain, let's check who is ill, who needs help." The state cannot do everything. You need to mobilize local communities. So the state should be there, but should do this. And the other thing, it's clear: we need more—not the fear of the right-wing populist, of some international authority beyond the nation-state; no, this opens a great new space for new corruption—but nonetheless, international cooperation. We all love [each other] now, Australia and especially New Zealand, you know? But you know, you cannot…this may work for a couple of months, this bubble idea. We are safe. But it doesn't work [permanently]. We have to—even if we have isolation and so on—nation-states have to collaborate. Not only on health, like if there is a vaccine, everybody should get it, and so on and so on. But also, if there is hunger, coordination—all these problems can be solved. 
But [there are] at least three levels: not only the efficient state, but also the help of local communities and international collaboration. I don't agree often with Dengists. You know, for me the best argument against China is: they boast so much, we did it. No! The best cases in China are precisely two territories which don't want to be part of China. The true successes are Hong Kong and Taiwan. So you can do it without total communist power. But it seems to be so obvious, for example, that if [we develop] a vaccine—okay, you allow the company some profit. But nonetheless, the vaccine should be basically considered, if it works, common property for the entire world. What people should see is that this is in the interest of all of us. It's not that I live in a safe country, and across the border the pandemic goes on. No, no, no. We cannot think like this. So find a way [for international cooperation] very patiently. And that's why…aren't you set for peace? I think that today more than ever, in all states and even internationally, we need good leaders. We need leaders who tell the bitter truth. But with some kind of non-abstract code, like 'together we can do it', and so on. And now comes a paradox. I like it to annoy my fellow leftist friends. My reproach to Trump: it's not that he is a true authoritarian leader, but it is that he is not authoritarian enough! You know, he acts more and more as one side in a conflict.
Samo Burja 
It has much more in the appearance of authoritarianism rather than the substance of it.
Slavoj Žižek
Wonderful formula! Be really authoritarian, you know! That would be my reproach to Trump. You know, and the price he pays for this is that now the United States is in a kind of ideological civil war. Not just the usual culture war between, as they say with regard to pandemics, masks or no masks. No, let's keep our ordinary way of life, and this usually more liberal-leftist [defense of] self isolation and so on. Don't forget that these protests which are exploding right now are outside this duality. It's not liberals…Van Jones, I think, in a commentary on CNN, said that a Hillary Clinton supporter— a liberal who pretends to be multicultural, but still retains all these racist prejudices—is much more dangerous than Ku Klux Klan members. So there is a lot of work to be done here. But again, as I already said, it's absolutely crucial that this protest energy gets transferred into some kind of consistent political program. If not, the United States will just come closer to some kind of ideological civil war. It will hurt its image very much. I wonder, Samo, if you agree even a step further: the main result of Trump's presidency, may well be that the United States will lose whatever remained, after George Bush, of its international status.
Samo Burja 
Well, the status of the US is dropping quickly. What I will say here, is that China's status has also dropped. In a way, it's an act of nature where the virus comes from. But everyone thinks of it as the Chinese virus, even if you say that's not the way to think about it.
Slavoj Žižek
It's very interesting how, for example—and even leftist friends are telling me this—how much China is now hated in parts of Africa and Latin America. Where Chinese capitalists come, they are worse than any old fashioned imperialist, and so on. Did you read a couple of days ago—again in Zambia they have copper mines I think, I'm not sure—in unrest, they killed some Chinese managers. They are much more brutal in their exploitation. You know, Syriza [party leader] Tsipras himself told me, when the Chinese bought the Piraeus harbor, the first thing they did is find the legal loopholes, abolish trade unions, fire half the people, and so on and so on. It's time for us—with all my best wishes for the Chinese people—to start to talk also about Chinese neocolonialism, which can be often more brutal than the standard Western economic neocolonialism. And this is very important, what you said. It's not as simple as it [being] the moment of China, where the United States is out and China is the only power. First, we will see the real data. As I always said, what we need now—I hope you'll agree—is a couple of Chinese versions of Assange. But you know, I signed letters for Assange, I support him. But always I warn my friends that before—yes, we should criticize, it's horrible what the United States is doing—but just imagine what would happen to a Chinese Assange. We would not hear about him, his entire family up to second cousins would probably have been disappeared, and so on and so on.
Samo Burja 
We need an army of Assanges all over the world, but I don't think we know where that army is going to come from.
Slavoj Žižek
This is very important, because I agree with you, but otherwise these new necessities of state control and so on, can of course also be terribly misused and so on. That's why I made this running joke, maybe you know it: my formula is communism with Julian Assange, which tolerates and even needs people like Assange, to bring out the state secrets and so on. I mean secrets which are relevant. You see, I'm not saying we shouldn't be controlled. I'm just saying, I would like to know how I am controlled and to what purpose I am controlled. And this doesn't cancel control, there still can be a lot of control. But control should be, as much as possible, transparent. Like, do you know what's going on? And I think people, as the ongoing situation clearly demonstrates…don't you think that people are ready to accept many things? Did you notice this irony that in Europe, the most democratic countries had the least problems with self-isolation drones and all that stuff, and so on. When you have basic democratic trust, people are ready to accept anything. Nobody complained in Norway, or in Finland. Sweden is another story. Can I tell you something? I love Sweden. But you know, there was, from the very beginning, a dark side in Sweden. Do you know that in the early 60s, I think, Sweden was doing some genetic regulation, chemically castrating men who were considered too stupid to breed children, and so on. What friends—Swedish friends—are telling me, is that there is something of this going on now. They knew the old people would be dying and they consciously, though not publicly, sacrificed them. This is why they're paying the price now. You now see Norway opening borders, but not to Sweden.
Samo Burja 
Honestly tell me what you want me to do, is what you're asking for. 
Slavoj Žižek
It's a challenging moment. That's where I see politics.
Peter Hopkins 
Let me jump in with another audience question here for you. Somebody asked: how would you describe the relationship between liberal capitalism and racism? Is it even possible to have a functional capitalist nation-state without some form of racism?
Slavoj Žižek
It's a complex question, because of course, radical leftists would have said no, it's not possible. Capitalism always needs racism. But it's not absolutely necessary. I would say, always look at the specific situation. For the United States of course, it's not just black people. It's this ambiguous relationship towards Latino immigrants, no? Trump is talking against them all the time. But we know now that you cannot simply organize a normal harvest without them and so on. You know, so it's simply part of this constellation. 
But where I agree with that guy Van Jones is that what I don't like about this liberal approach is this politically correct culturalization. As if the problem with racism is, you know…I see this politically correct [thing as] endless. It's like a Catholic confession at its worst form. Self examination, I use that word. [Is a thing] already implicitly racist? Or a friend of mine, I was flying with him, looked at a beautiful flight attendant—was this already sexism? In my ideal society—maybe it's a utopia—you can use all the dirty jokes, sexist jokes and so on. But they will not function in a racist or sexist way. That's how I function with my black African-American friends. 
It's interesting that when I'm attacked for racism, it's always by white liberals. With black people, with Native Americans, I love them! Do you know my standard story, it happens to be in Missoula, Montana. A Native American told me why he hates the term Native American. Like, are you then cultural Americans, and we are native? He told me, "We much prefer to be Indian. At least our name is a monument to white men's stupidity, who thought they were in India." My Native American friends have told me, they especially hate white liberals who come to visit them and say, "Oh, I admire you, you have this holistic approach to nature, you know, you don't exploit nature and so on." And my Native American friend told me that he shouted back at them, "Look, come and live in my miserable hut and give me your LA summer house, I would quite like to be alienated from nature!". You know, all Native Americans and blacks that I know, they know very well how hypocritical and condescending this liberal respect for their way of life can be. They knew that here the true racism is hidden. 
That's why, to conclude—you will like this—I once, and they applauded me, I addressed women in the hall and I told them: let's say you have a boyfriend who tells you, here are my dirty socks, you are a woman, wash them. I told these ladies, generally don't drop him. If he says this, maybe you can re-train him. But let's say that you have a boyfriend who tells you, you know what, we men are caught in Cartesian dominating technological mind. You women have a more holistic approach. You don't exploit nature, you are in dialogue with nature. I told the ladies there, if your boyfriend tells you this, run away as quickly as possible. And it's not a joke, I mean it seriously. Talk with real minority people—Native Americans, blacks, and so on. They know very well that the true core of everyday racism is masked as this respect. 
Even identity politics is suspicious here. A friend from South Africa told me, when we were fighting for the black vote against apartheid, you know who advocated apartheid, who said "we blacks should go our way." A king of one province there, who was paid by apartheid! Apartheid justified itself in almost Marxist terms. I read an apartheid brochure where they said, if we just give blacks the same rights, it will be all the same technological alienated culture and so on. So it's precisely to keep the diversity of cultures that we need apartheid and so on. The first formula—in New Zealand, I said this and they applauded me—the first formula of anti-racism is, yes, we white liberals are consumerist, alienated. Allow the poor also to decay like us. Don't terrorize the poor. 
Peter Hopkins 
Next question from the audience: if you look at the unfolding social movement through the protest, what is your diagnosis about what is being pursued effectively in terms of change? And where do you think protests might end up being futile? And how would you advise people engaged in them to achieve greater outcome from their efforts?
Slavoj Žižek
Here you must be very precise and define, what do you mean by greater outcome? You know, of course—I'm sorry to say but here I'm open, I talk like this to my black friends—if I were to find myself on the street and the protestor says, "you are a white guy," and beats me, robs my car, or whatever, I would of course run for the police. I mean, I'm not this kind of a crazy leftist to say, you're exploited so come beat me, you have the right, you know. That's what I already said, I will return to that. I don't think we have here a certain energy of rage protest. And it's open.I don't give a simple answer. Let's hope it will be articulated in some consistent program. And it's not clear—even I don't have a simple formula for how to do it. 
For example, some people, like even Christopher Hitchens, were in favor of general reparations for black people. I don't know how many trillions should be given so every black guy gets something, and so on and so on. I doubt if this would work. It would maybe stigmatize them even more. You know, real racism is not just embedded…that's the problem of political correctness. They treat racism as if it's deep in the soul, from prejudices. And if a black guy for example, robs you or beats you, they all of a sudden reify and objectivize him. They say he's not responsible, he's a product of exploitation, circumstances. Many black friends complain to me, it's horrible what they are doing. They seem to show sympathy for us. But the fact is that they treat even the worst racist as morally responsible, that's why they are guilty. And they treat us blacks as just products of circumstance. It's a very complex process: economic measures, logic of social recognition, but what I will especially emphasize is no liberal patronizing. 
You know, even affirmative action, I am for it. But often…like I had a black friend who is an excellent student. But he told me, his liberal white friends, he detected how they treat him as "ah yeah, you are here at Princeton because of affirmative action, otherwise we know you wouldn't be here." Black people, it's not just their objective circumstances that we should change. They should be treated as morally responsible adults and people, not patronized. 
Let me conclude with another story that you will find amusing. I met in Paris, years ago, a guy from Nigeria who told me that he read a book, an old travelogue by a British guy, who said he visited Nigeria and he never saw people who are so evil! [They were] cheating him, stealing from him. And this guy said this was a good, non-racist book. He treated them as normal evil people. Yes, most of the people are egotist, evil and so on. There was none of this patronizing attitude in it. So that's the true key to anti-racism. And the same thing I'm saying to my—and they accept it—Muslim friends from Arab countries: respecting you doesn't mean, "oh you beat your wife, that's your way of life." No, respecting you means precisely not treating you as a child who doesn't know what human rights are, but openly addressing to you this question: sorry, what you are doing with women, it's not right, and so on and so on. Because then you get the absurd situation with some European leftists that on the one hand, you know, if I as a European look with a certain desire at the woman, but do nothing, I am immediately a sexual predator. If a Muslim guy covers a woman, [they say] "oh, it's not just exploitation, it could be a form of regaining some form of autonomy". You know, I'm an old fashioned universalist, I don't believe too much in cultural differences. I don't believe that we cannot understand foreign cultures. If you ask me naively, it's difficult to understand some cultures. But if you try it seriously, you can do it.
Samo Burja 
So how could marginalized communities build economic power? Because that's, I think, a very important thing for them.
Slavoj Žižek
There are different ways. One way is…ah, I will give you other examples. Although there are different theories. For example, I read somewhere—maybe it's not true, I read a couple of years ago—do you know that Cuban immigrants are on average in the United States as rich as Jews, or even more—I don't mean it in a bad way, they are very successful. I mean, what do you think this is, Samo? You deal with this. Maybe it works that to emigrate from Cuba nonetheless involves certain risks and dangers. So it's clearly those who are more active, creative, and so on, who do it. So there is a certain positive selection.
Samo Burja 
I think there's an argument towards positive selection. But I think it's often the strength of these immigrant communities. So it's not the fact that they're filtered, but the fact that they are strong communities that exist in a different, say, hyper-atomized context that actually helps them a bunch, right? So that is the social fabric between them.
Slavoj Žižek
So this would be one way! For example, you may correct me if I'm wrong, but with Koreans, it's the same. That's in my domain. They have many very good philosophers, social scientists, and so on and so on. And that is the message, you know. It's not just that with affirmative action and money donations we will help them. At some level, they should also help themselves. That's my favorite answer of Malcolm X—it's in the movie—and I emphasize it…
Samo Burja 
Malcolm X's writing is great! Everyone should read Malcolm X.
Slavoj Žižek
You remember the scene in the movie when, after giving a talk at some campus, a white girl comes to him and said, you impressed me so much, what can I do to help you? And he said, nothing. But the point is not, don't help us. The problem is, help us in our attempt to redeem ourselves. You will not do the work for us. Because if you adopt this [idea that] they need help, you are already in this liberal racist trap. And Malcolm X saw this fear. That's why, as I always repeat it, I already like his idea of X. X means no, we will not…
Peter Hopkins 
Gentlemen, I'm going to jump in, because we have run out of time. I want to thank Slavoj so much for a fantastic conversation, and Samo, thank you so much for moderating a really brisk and bright discussion. Toward the audience, thank you for joining us. Be sure to tune in next Tuesday, June 16 at 1PM when Jim Citron, Spencer Stewart's North American CEO, will be talking to entrepreneur and author Chip Conley about masterfully managing his career enhancement, and opportunities on Big Think LIVE. Thank you all for watching today's session of Big Think LIVE. Stay safe and healthy. Bye.